Lotería was the 2013 debut novel of Mario Alberto Zambrano.
With her older sister Estrella in the ICU and her father in jail, eleven-year-old Luz Castillo has been taken into the custody of the state. Alone in her room, she retreats behind a wall of silence, writing in her journal and shuffling through a deck of lotería cards. Each of the cards' colorful images—mermaids, bottles, spiders, death, and stars—sparks a random memory.

Pieced together, these snapshots bring into focus the joy and pain of the young girl's life, and the events that led to her present situation. But just as the story becomes clear, a breathtaking twist changes everything.
This book was stippled with Spanish aphorisms and phrases, and included an impressive amount of vocabulary in-context, to help teach Spanish to non-speakers. A full deck of Lotería cards is presented back-to-front, to mark the chapters, as if the reader is flipping a card when turning the page, reminiscent of Isabelle Allende and Salvador Plascencia's magical realism.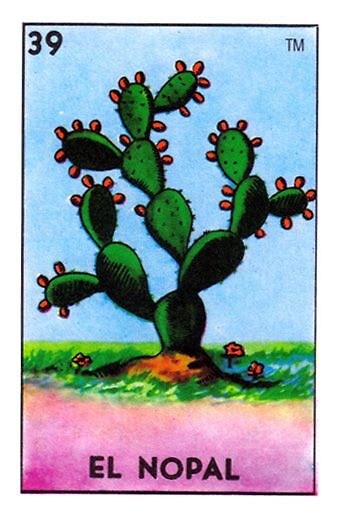 "I didn't feel like remembering today so I laid out the cards close to each other so that they were touching like tiles, like El Nopal." (175).
Luz associates her memories with the Lotería cards, using them to prompt her, to spark her memories. Than she writes about it in her journal. As we read her diary — addressed to "You", always capitalized, in reference to the reader, or in reference to a higher power — we understand the trauma she is trying to run from.
The Arañas, the spiders, represent the memories that haunt Luz. Ghosts. They "creep around in the dark when you're not looking" (2). And she wants to "smash this spider" (6), she wants to forget. "But when I raise my hand and close my eyes I hear her scream." (6).
In La Chalupa, Luz recalls the riddle to La Rosa ("Ven que te quiero ahora.") and philosophically reasons with her journal and the reader. She emphasizes the dual meaning in the use of the word quiero, which can mean either want or love, and how neither could truly be love:
And because quiero can mean either want or love, I asked if it meant "I want you" or "I love you." Come here, because I love you, or, come here, because I want you? If you were saying to someone, come to me, then the person you love'd wasn't there, and if you had to tell someone to come to you then maybe he didn't love you. And to want someone to come to you is like an order. If you have to order someone to come to you, how much love is that anyway? (13).
The entire novel raises questions on important issues, like gender, sexuality, and the complications that arise for Mexican Americans who grow up caught between two cultures.
They'd pinch me if I called something a boy instead of a girl, or the other way around. Why is it La mano instead of El mano? I can think of Papi's hands and think they're masculine, then think of Mom's and think they're feminine. If we were talking about the hands of a clock it could go either way. The hands of a clock could be bi. (85-86).
Rather than integrating the traditional riddles into her memories, Luz writes her own riddles, and begins to associate her life to the 54 Lotería cards. By writing in her journal and using the cards to prompt her memories, the reader relives the 'accident' with Luz; as the deck of cards is flipped, the story unfolds, piece-by-piece. In this way, she allows herself to remember, allows herself to feel the pain she is blocking out.
"No te olvides de dónde vienes."

Like if I would forget." (62).
Memory is a large theme in the novel: remembering, forgetting, knowing and not knowing. There is a difference between not knowing and forgetting, and forgetting something on purpose. Luz is not too proud to admit when she did not know something. In fact, the novel is littered with her asserting what she did not know, at the time. ("I didn't know," (11)) She often writes her regrets: "Because if I didn't have fingers or hands maybe none of this would've ever happened." (51). It is obvious that she is remorseful, sorry for whatever it is that happened, but it remains unclear until the end of the novel what she has to be sorry for. Zambrano's writing remains mysterious and full of twists, until the very last chapter.
"She used to say , forgive and forget, but I don't think she believed it, because how can you forget about the things you feel?" (157).
By the end of the novel, the reader can work out themes of domestic violence and sexuality, but more than anything this novel is about working through pain, memory, and forgiveness. Not only must the characters forgive each other – they must forgive themselves.
I could not put it down, and finished it in less than 24 hours.
ABOUT THE AUTHOR
Mario Alberto Zambrano was a professional dancer before writing fiction. He danced for Hubbard Street Dance Chicago, Nederlands Dans Theater, Ballet Frankfurt, and Batsheva Dance Company. After fifteen years in the field, he attended the Iowa Writers' Workshop to study fiction as an Iowa Arts Fellow. His first novel, Loteria, was a Barnes and Noble Great New Pick for 2013 and a finalist for the 2014 John Gardner Fiction Award. Booklist, Vogue, Village Voice, School Library Journal, and San Antonio Press hailed Loteria as a best book of 2013. He is the recipient of literary and dance fellowships from MacDowell Colony, Yaddo, Vermont Studio Center, Hawthornden Castle, the Princess Grace Foundation, the Presidential Scholar Foundation, and The National Endowment for the Arts. Currently, he is a Lecturer on Theater, Dance & Media at Harvard University. Find out more about him and his work at http://marioalbertozambrano.com/.