Have you seen the new Emma movie yet? I didn't get a chance to see it before the theaters closed (thanks, Coronavirus), so I got to enjoy it from the comfort of my own couch—but I'm not complaining! LOL I actually prefer seeing movies from home, it is way more comfortable to lounge around under your own blankets, and you can pause/rewind the show if you ever need to take a snack-break! So shelter-at-home premieres don't bother me, so much. Plus, all the time at home got me inspired to make some bookmarks! You can check them out on my newly launched etsy shop, WandererLitJournal Bookish Bookmarks.
"Ah! There is nothing like staying at home, for real comfort." ―Jane Austen, Emma
Anyone who knows me knows how much I love Jane Austen, so I was really excited to hear that there was a new Emma adaptation being made. There are many film, television and stage adaptations of Emma already (as well as fiction and comic book re-tellings), but my favorite two are the are the 1996 Emma comedy starring Gwyneth Paltrow and the 1995 Clueless movie starring Alicia Silverstone. My favorite Emma movie is still the 1996 version, but this was a really enjoyable adaptation that I am happy to add to my collection of Jane Austen dramas!
I think it is so important to study the great works of literature, and adapting them to the screen makes them super fun, quick, and easy to digest. I was impressed with the film; for a shortened version of the text, the writers did a fantastic job of selecting the important parts of the text, highlighting and explaining it in a fun and easy way. Emma is a very long book and this was a great condensed version: all of the major plot points were hit, making this a really accurate adaptation.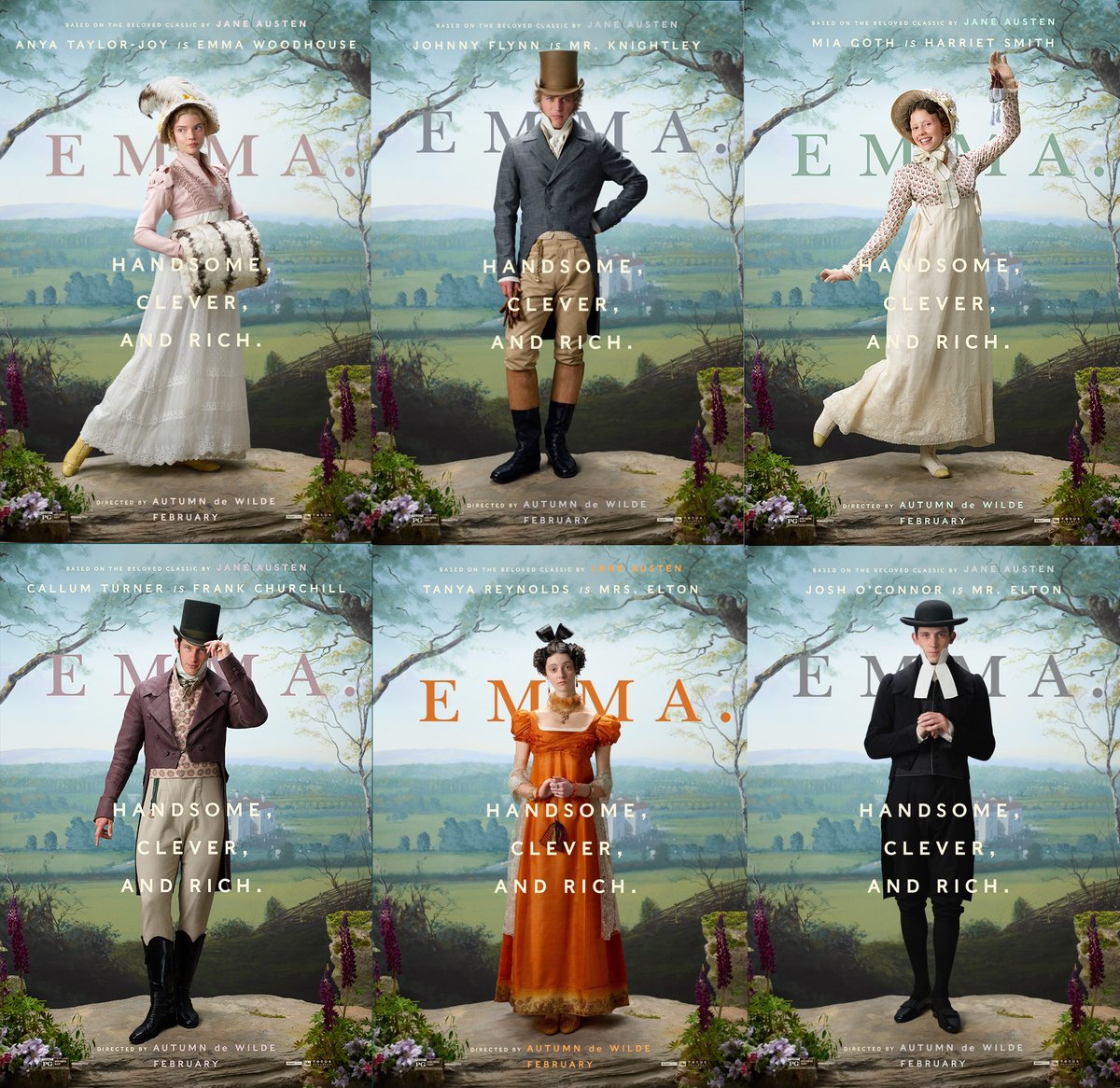 I liked this one because it was so different from the other adaptations that already exist. There was still plenty of dancing and dinner gowns, but Hollywood brought an element of glam to Emma that the other movies lack. It was really colorful, bold, lush! The visuals were absolutely stunning in this version, and were probably the stand-out feature among critics.
Costumes are always one of my favorite facets of regency period dramas, but I wasn't prepared for just how amazing the costumes were in this movie! Each character is expressed through their costume choices and there are meaningful symbols hidden in each outfit, from Harriet's simple dresses to Emma's meticulously planned gowns, which connect her to surroundings and echo her attempt to control situations. The film lingers long on such small details that are usually passed by, putting extra emphasis on the hidden meanings in each outfit. Like when Emma's dress was slightly snagged, echoing her etiquette faux-pas. And can we talk about the steamy Knightley undressing and dressing scene?! Swoon-worthy, but it echos the way his personality is stripped of pomp (unlike his super fake neighbors who try way too hard to impress others). And valuable because we almost never get to see the male side of fashion history!
Jane Austen herself was fond of Emma, but did not count on her being a general favorite among readers. When commenting that work, she said, "I am going to take a heroine whom no one but myself will much like." This, to me, suggests that Austen wrote Emma to be dislikeable, but the modern movies just don't really 'get' it. Not to say that Emma isn't likeable, but I think that Austen wanted her shortcomings to be prominent, and therefore important for her character growth. The other Emma movies paint her in a very forgiving light, but this one did a great job of presenting her flaws. There are more than a few unflattering angles that were used, helping to make this character appear more human and less ideal. Overall, this was a really good adaptation, and I think Jane Austen would approve.